Virtual Indoor Cycling
Indoor cycling is great for social distancing, structured workouts, winter cycling, avoiding unsafe roads, or for people with time/location constraints. However, indoor cycling can be
boring
unless you are riding virtually.
There are numerous apps to assist with indoor riding. In simple terms, you connect your bicycle to a trainer, and pair the trainer to a computer/device running the app. The faster/harder you pedal on the bike, the faster you go in the program. It's a little more complicated than that, so check out whichever service works best for you.
Zwift
The game
Zwift
seems to be the most popular indoor cycling app unless you have specific training goals. Zwift allows you to ride in a variety of worlds by yourself, you can participate in races, official group ride events, or even organize private meet-ups with Zwifters next door or around the world. Zwift also has
running
! Here is more information:
What is Zwift?
After you've started (General Resources)
After you've started (FAQs):
Basic Zwift setup
If you're looking for the cheapest way to get into Zwift, you can start with a basic setup and slowly upgrade to a better one. This section is only a starting point; do your own research to make sure everything will work together. Assuming you already have a bike and a supported computing device, a cheap setup (amazon prices) would require a:
Dumb mag trainer ($60-100 when COVID-19 settles down) - You normally control the resistance on a mag trainer by turning a dial. They tend to be a little loud. If your bicycle has a bolt-on axle, make sure it's compatible.
Matching ANT or BTLE sensor and receiver (Things are moving toward BTLE)
different rear axle depending on your bike and trainer - QR trainer skewer (no plastic) ($10-15) or thru-axle trainer adapter ($50-60)
special trainer tire recommended ($30-40), or old road tire (no tread) as regular tires wear faster on a trainer.
remote control fan recommended
Zwift ($15/month+tax)
Although a dumb trainer is better than nothing and it's a good start, it's not as fun as a smart trainer...
Good Zwift setup (Smart Trainer)
A good Zwift setup can be expensive. If you shop around, wait for seasonal sales, buy used, acquire hand-me-downs, etc, you can save money.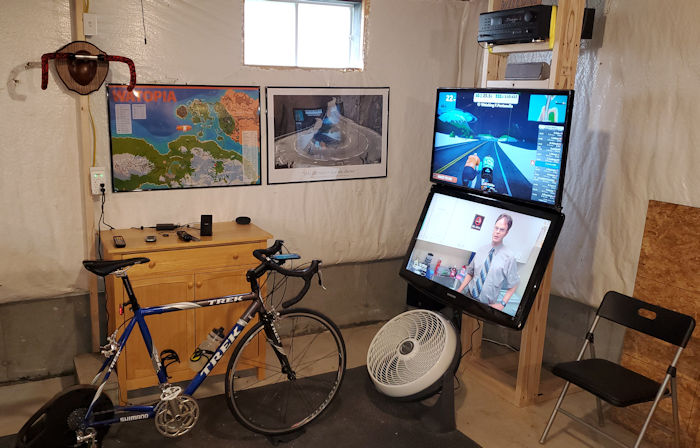 This setup includes:
Smart Trainer - A smart trainer automatically adjusts resistance based on road incline in the game, or the training plan you're running. they have power meters built in so they more accurately represent your speed in the game. This direct drive model hooks up directly to the bicycle for more realistic feel and less wear/tear on tires, but cost more than the equivalent wheel-on smart trainers.
dedicated bike - not required, but it's nice if you can.
AppleTV 4K - Runs the actual Zwift app. Notes: ATV does not support ANT. It only supports two additional BTLE connections unless you use a bridge with the companion app. Also, ATV 4K functions better than non-4K version even though both display 1080 resolution
Cell phone mount to attach an old smartphone to a Wahoo/Garmin bike mount. This runs the Zwift Companion app - Note: right-angle charging cable
HR monitor - required for racing/ZwiftPower
Top TV for Zwift
Bottom TV/streaming device for video content (different brand so RF remote signals aren't shared)
Network switch (reconfigured old router) - Zwift will function better if the device is hard-wired
5.1ch A/V stereo and headphone extension wire from ceiling
remote control fan
USB/Qi charging station - to keep cell phones, HR monitor, ATV remotes charged
Floor mat to catch sweat
Chair for changing into bicycle shoes
Printed Zwift Route list (excel) to keep track of completed routes (bonus XP/badges)
Missing:

"sweat net" and/or towel to protect the frame/handlebars from corrosive sweat
rocker plate to mimic road motion
fridge for refilling drinks mid-ride, and post-ride beer
Zwift FAQ
Why not side to side TVs? Personal preference. If you have a treadmill next to the bike trainer, you may prefer side to side as a cost saving measure.
What height to mount the TV? Again, personal preference. Err on the side of too low so you don't hurt your neck. If doing something like the above, experiment with maximum TV height before mounting so that you have enough space for the bottom TV and fan
Fan Placement? Again, personal preference. If it has to be off to the side, set it so the fan blows sweat away from the drive side of the bicycle.
Device specs? Check out Zwift for the latest in device compatibility. You might be able to run the game on the old computer you already have. It won't be great, but it may be good. The absolutely best way to run Zwift is using a gaming computer with high-end 4K graphics card. However, the best bang for the buck seems to be AppleTV 4K, even if Zwift only outputs 1080 resolution.
Zwift monthly fee? The monthly fee is per user. Kids under 16 are free.
With a club name like Peloton, what about the Peloton bike brand? The club name is related to the peloton cycle term, not the exercise bike brand. Peloton brand bikes are not compatible with Zwift or similar services. Some people may prefer Peloton over Zwift, but Zwift can be significantly cheaper unless you share with 3 other people.